We couldn't be more thrilled to announce the 2023 STOP THE BLEED® Grant Program recipients – 15 terrific organizations focused on preparing their community for a bleeding emergency.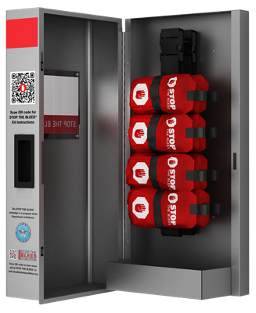 10 STOP THE BLEED® Response Point Cabinet Recipients
Harvard University
Miami of Ohio
Quinnipiac University
California Institute of Technology
SUNY at Westchester Community College
James Madison (High School?)
Springdale Highschool
IDEA Carver Public Schools
Hauppauge High School
Gulfport Schools
5 STOP THE BLEED® Training Kit Recipients
Illinois State Police
City of Encinitas, Fire Department, Marine Safety
Southeast Alabama EMS Council
New York Public Radio
Council Rock School District
The grant program, now in its 4th year, continues to be one of the most popular. We are seeking to build additional support given the demand that we see. Please contact us if you have interest in supporting this impactful program!
The 2024 STOP THE BLEED® Grant program details will be announced in February 2024. We estimate that the application period will begin sometime in March 2024. If you are interested in being notified when that starts, sign up for our emails.