STOP THE BLEED® is about awareness and action. Anyone can help out.
Spread the word! Become a STOP THE BLEED® Ambassador and help educate your community about the importance of implementing a STOP THE BLEED® program. Use the STOP THE BLEED® toolkit.
Get trained – take a class so you can be prepared to save someone's life. Do even more by becoming a qualified STOP THE BLEED® trainer and help others to be ready.
Get kits – purchase kits for your home or your organization. Training kits and accessories available too.
Share your STOP THE BLEED® story! – send it to stories@stopthebleedproject.org and we'll share it.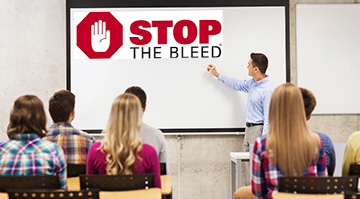 STB Promotion Toolkit
Spread the word faster by starting with our Toolkit. It contains background information on STOP THE BLEED® and has the following content for you to use right away in your community.
Origin of STOP THE BLEED®
Statistics about the STB campaign
Messaging to generate interest
Sample emails
Sample press releases
More Images to Share with your Community!