Training is at the heart of STOP THE BLEED®
Whether you have time for a one hour in-person STOP THE BLEED® class or just a couple of minutes to learn about the basics – we've got you covered!
These motivational public service announcements will make you want to learn more!
Here are some of the leading organizations that offer Department of Defense approved STOP THE BLEED® courses.
Click each logo to see the organization's training information.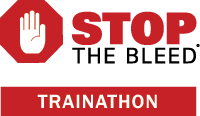 Be part of the first STOP THE BLEED® Trainathon by taking a class during STOP THE BLEED® Month or on STOP THE BLEED® Day
These training resources have been provided by some of the leading STOP THE BLEED® organizations and individuals to make it easy for the public to learn more.